Meet the Ghanaian who won BIG five times in less than a year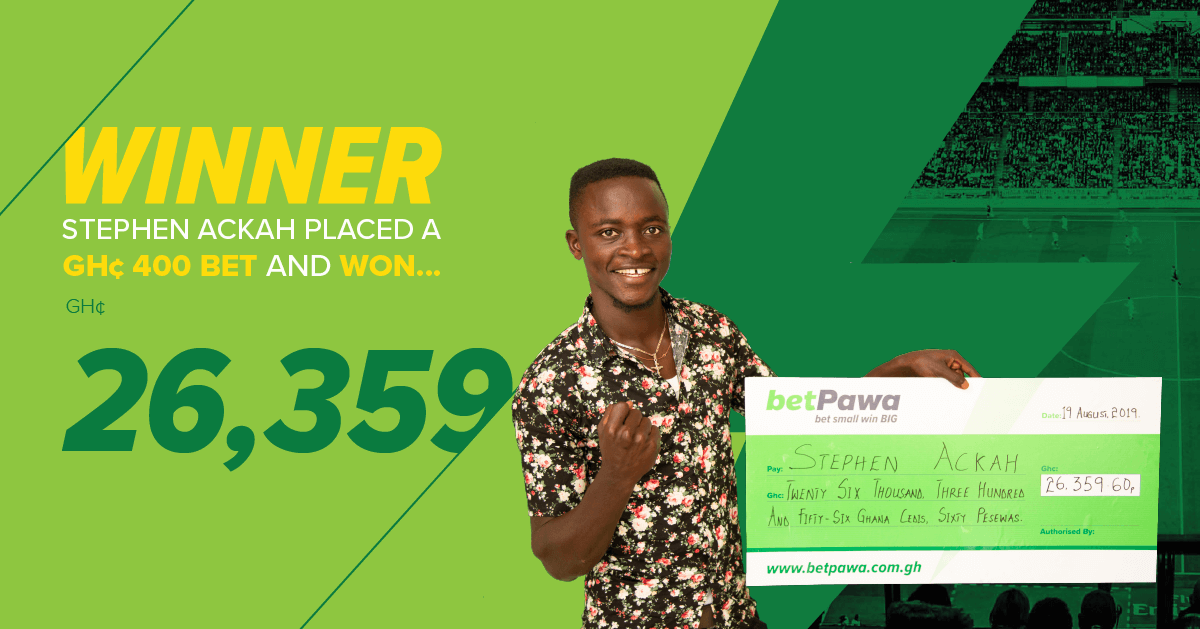 Stephen Ackah has proven that winning BIG is no fantasy by doing it five times in nine months.
The Nzema resident's latest success came over the first two weekends of August, winning GH¢17,173.07 from a GH¢400 bet. He also received a 55% win bonus for selecting 13 legs to raise his total winnings to GH¢26,359.60.
betPawa offer Ghana's best win bonus for any bet with three legs or more, all the way up to 250% for 30 legs.
Stephen picked 13 favourites – nine playing at home and four away – with his biggest odds being the 2.00 on Arsenal being victorious at Newcastle.
A story of five BIG wins
The delighted winner said: "I have won BIG several times and even BIGGER than this one before. The first BIG one I won was GH¢53,851 followed by GH¢53,221, GH¢60,493, GH¢43,817 and other winnings.
"I am overwhelmed and it is uncountable and I do not know what to say to betPawa. Thank you betPawa. Thank you boss."
"I like placing future bets a lot and to be honest, I have a live updates mobile application on my phone and that is where I go and check the strength and statistics of the teams I intend to place my bet. This application helps me a lot to analyse the teams very well.
"I think the last game on that particular betslip was between PSG and Nimes. The moment PSG scored the second goal in the 56th minute, I realised that no matter what I will win this bet, so I told my uncle that he should get prepared because I am going to win BIG again from betPawa but my uncle didn't believe until the final goal came in the 69th minute.
"So immediately when the game ended, I moved to a bar together with my uncle and friends and started jubilating and popping champagne and everybody was excited."
The role of his brother Bartholomew
When did Stephen discover betPawa? "I was introduced to betPawa by my brother Bartholomew about nine months ago. I was with another betting company, but since my brother told me about the benefits of betting with betPawa, I decided to quit them and join the bet small win BIG family.
"I love betting with betPawa mainly because of the amazing win bonuses you always bring to us and the win bonus is even much bigger than the possible win. I love betPawa sir, and it is betPawa who has made me who I am today.
"Anybody who is looking to win and continue winning BIG like me should always bet with betPawa and also do team analysis before placing bets on those teams.
"I always invest 70% of my winnings into a bank by buying treasury bills and use the rest to take care of myself and my family."
Want to win BIG like Stephen? Register with betPawa.
What is betPawa's no minimum stake? betPawa offers its customers with the genuine chance to bet small win BIG by allowing users to bet as little as 1 pesewa.
What is betPawa's win bonus? betPawa offers the best win bonus in Ghana, inviting users to win up to 250% extra. With 50% for 12 correct picks, 100% for 20 and 250% for 30, you get much more in return.
betPawa is the easiest way to bet online securely. Not only do we offer the best odds and the opportunity to bet small win BIG with a minimum bet of 1 pesewa and win bonuses up to 250%, we also provide 24-hour support to customers who need it.
Are you the next winner? Visit: www.betpawa.com.gh