Farmer celebrates with friends after winning GH¢95,038.38 from a GH¢2 bet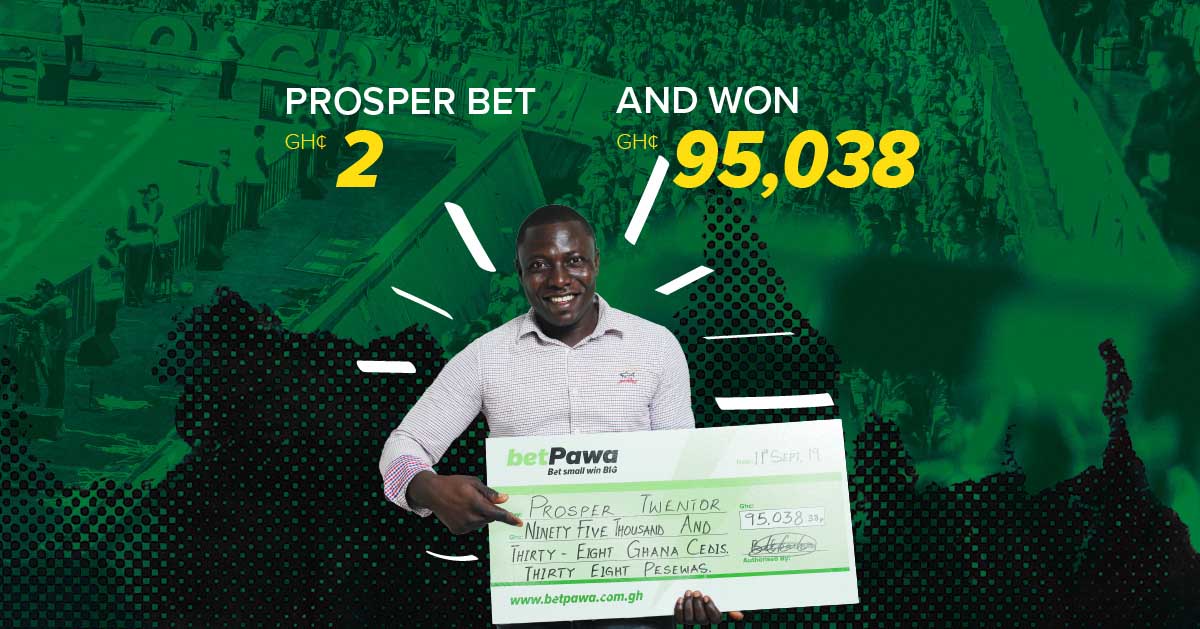 Prosper Twentor is the latest betPawa customer to bet small win BIG, being paid out GH¢95,038.38 from a GH¢2 bet.
The farmer won GH¢47,518.19 thanks to huge odds of 23760.1. He then saw his winnings doubled by betPawa's 100% win bonus for betting on 20 legs.
betPawa offer the best win bonus in Ghana for all bets with three legs or more, including 250% for bets with 30 legs.
He said: "I was very excited and surprised winning this BIG amount of money. I never dreamt of getting this huge amount of money in my life.
"The first person I told about my bet winning was my friend Francis before telling my family, and I did that because I always bet with my friends."
Prosper's betPawa story
How long had Prosper been betting with betPawa before his BIG win? "I got to know and started betting with betPawa online for six months now and I have never regretted switching to betPawa," he revealed.
"This is my first time winning BIG like this, which I never thought of winning in my life. I love betting with betPawa because of the biggest win bonus and odds betPawa always bring to its customers.
"What I would like to tell anyone out there who would want to win BIG with betPawa is that betPawa is real and is the best sports betting company in Ghana because of their win bonus, odds and their website is user friendly.
What next for Prosper?
The Akuse native placed his winning bet on 31st August on 20 matches taking place across eight days. He included various markets, including 1X2 (match result), both teams to score and total goals.
Describing his future plans, he added: "I am into the banana farming business already and I intend to use this money to expand my farming business and the rest to take care of my family."
Want to win BIG like Prosper? Register with betPawa.
What is betPawa's no minimum stake? betPawa offers its customers with the genuine chance to bet small win BIG by allowing users to bet as little as 1 pesewa.
What is betPawa's win bonus? betPawa offers the best win bonus in Ghana, inviting users to win up to 250% extra. With 50% for 12 correct picks, 100% for 20 and 250% for 30, you get much more in return.
betPawa is the easiest way to bet online securely. Not only do we offer the best odds and the opportunity to bet small win BIG with a minimum bet of 1 pesewa and win bonuses up to 250%, we also provide 24-hour support to customers who need it.
Are you the next winner? Visit: www.betpawa.com.gh