Prince wins GH¢39,854.85 on his betPawa anniversary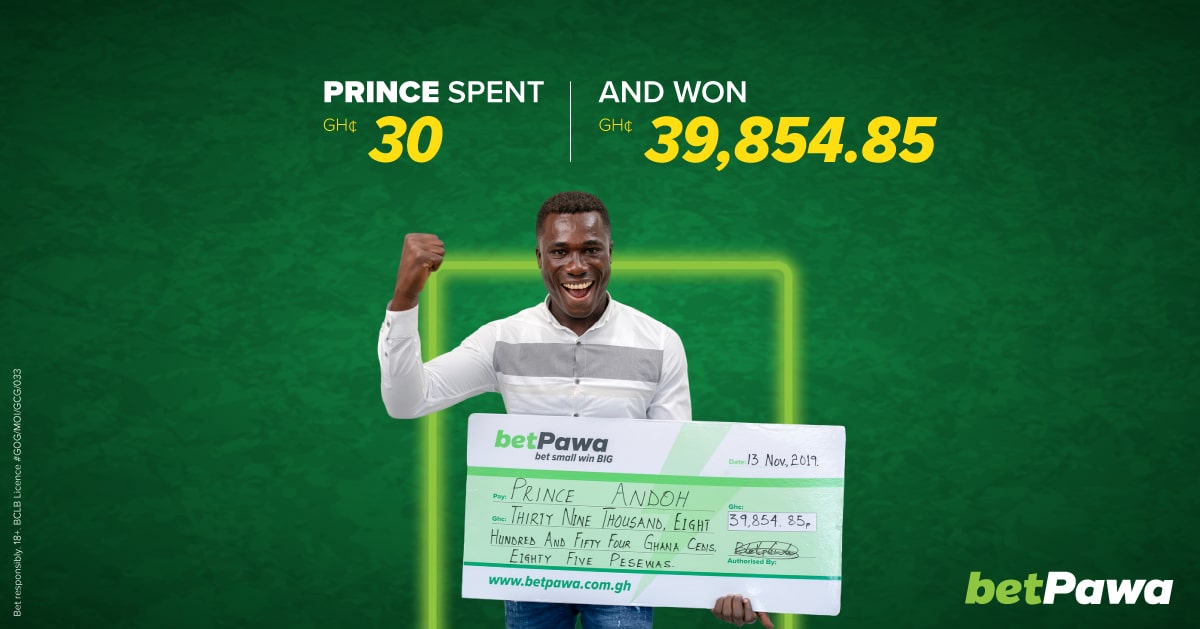 Prince Andoh bet small and won BIG exactly a year after being introduced to betPawa by his friend Augustine, turning GH¢30 into GH¢39,854.85.
The glassman picked winners in 14 matches, with his initial GH¢24,890.52 payout increased by a 60% win bonus for selecting 14 legs. betPawa offer the best win bonus in Ghana for all bets with three legs or more, including 250% for bets with 30 legs.
Prince found out he'd won while watching football with the same friend: "Augustine thought I was joking. He said maybe I won only GH¢390 and I'm not seeing it well so he came to check himself on my phone and it was still the same so we turned the game center into a jubilation center.
"What I like most about betPawa is the win bonuses. In fact, your win bonuses are too much and the betPawa website is very user friendly, where you can make your selections with ease.
"I always used to tell my friend that those BIG winners on the betPawa website and Facebook, one day I will also be there and the whole world will see me.
"I had a transport business plan long ago but source of funds to make this dream come true was a big problem for me. My younger brother is a driver and I promised him that if I get money, I will buy him a bus for business. betPawa has given me power to make my dream business come true."
Want to win BIG like Prince? Sign up with betPawa.
What is betPawa's no minimum stake? betPawa offers its customers with the genuine chance to bet small win BIG by allowing users to bet as little as 1 pesewa.
What is betPawa's win bonus? betPawa offers the best win bonus in Ghana, inviting users to win up to 250% extra. With 50% for 12 correct picks, 100% for 20 and 250% for 30, you get much more in return.
betPawa is the easiest way to bet online securely. Not only do we offer the best odds and the opportunity to bet small win BIG with a minimum bet of 1 pesewa and win bonuses up to 250%, we also provide 24-hour support to customers who need it.
Are you the next winner? Visit: www.betpawa.com.gh