Ofori Darko's dream house awaits after activating our 130% win bonus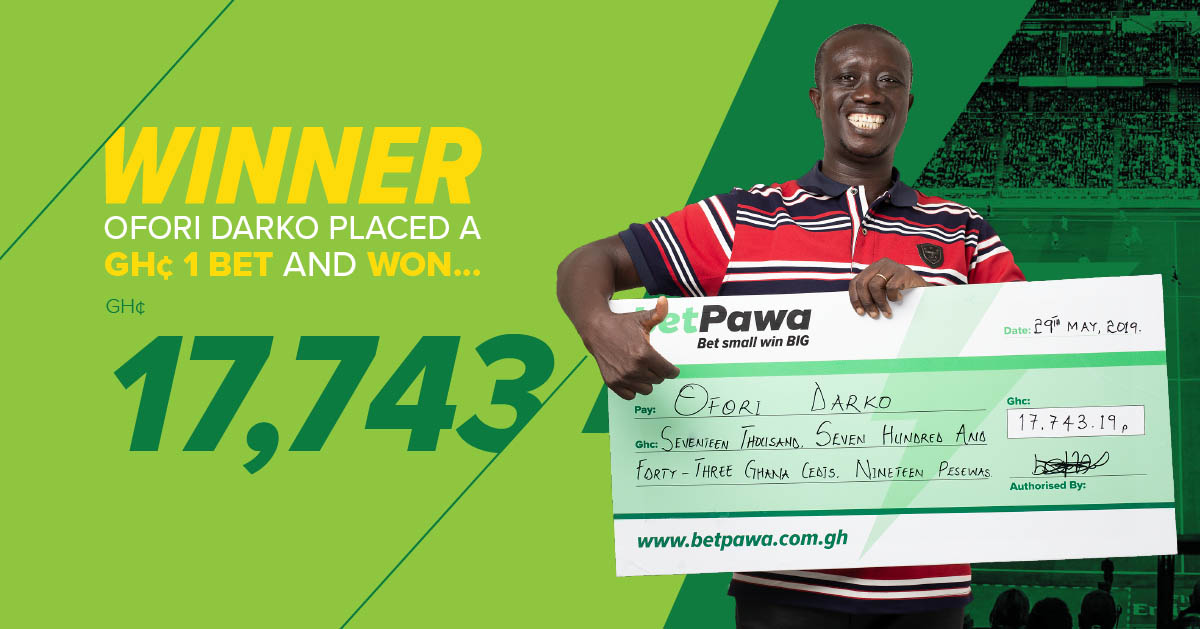 Can you imagine turning GH¢ 1 into GH¢ 17,743.19? Ofori Darko did exactly that by betting small and winning BIG.
The businessman picked out 29 home wins at odds of 7714.43 for a return of GH¢ 7,714.43, and his winnings were more than doubled by receiving a 130% win bonus of GH¢ 10,028.76 on top.
Ghana's best win bonus
betPawa offer a 10% win bonus for five legs, 50% for 13 legs and 100% for 23 legs, all the way up to 135% for 30 legs, which is why Ofori decided to sign up 10 months ago.
He said: "I was so happy winning such an amount. In fact, I was so confused by winning such a big amount. Never before in my life have I won such a big amount of money.
"betPawa bonuses encourage me a lot compared to other betting companies I was betting with and that has made me stay with betPawa."
After winning BIG, Ofori is thinking BIG
What will the Akyem Asuom resident do with his winnings, which were achieved by taking advantage of our minimum bet of GH¢ 1?
"I already have a plot of land and I am putting up my dream house with the cash," he revealed.
"I would like to advise current and potential betPawa customers that they should not focus much on the major leagues, rather on the small leagues, and they should never give up and one day it will be their big story like mine."
True to his recommendation, Ofori's betslip included teams from the Faroe Islands, Finland, Norway, Ukraine, Croatia and Tunisia, among others.
Now the major European leagues have finished, it's the perfect opportunity to try his approach of focussing on less publicised leagues.
Want to win BIG like Ofori? Register with betPawa.
What is betPawa's GH¢ no minimum stake? betPawa offers its customers with the genuine chance to bet small win BIG by allowing users to bet as little as GH¢ 1.
What is betPawa's win bonus? betPawa offers the best win bonus in Ghana, allowing users to win up to 135% extra. With 50% for 13 correct picks and 85% for 20 correct picks or more and up to 135% for 30 correct picks meaning you get much more in return!
betPawa is the easiest way to bet online safely and securely. With the best odds and no minimum stake, you can bet as little as GH¢ 1 and add up to a 135% win bonus, making it easier than ever to bet small win BIG!
Are you the next winner? Visit: www.betPawa.com.gh