Joseph Akotinga hits 200% win bonus to turn GH¢2 into GH¢28,496.50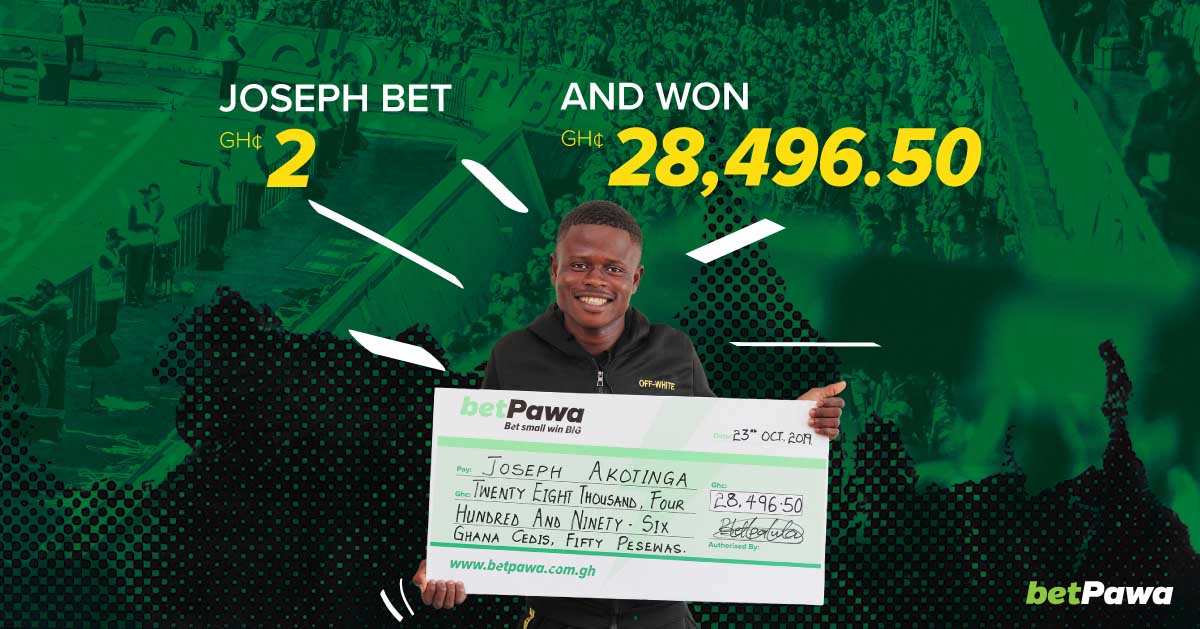 A Ghanaian farmer got 28 results right to achieve betPawa's 200% win bonus and win GH¢28,496.50 from a GH¢2 bet.
Joseph Akotinga's predictions in matches taking place on Friday 18th October gave him odds of 4750.08. His GH¢9,498.17 winnings were then trebled by the win bonus to create a massive prize.
betPawa offer the best win bonus in Ghana for all bets with three legs or more, including 250% for bets with 30 legs.
The farmer already has BIG plans for his GH¢28,496.50, saying: "I will invest some of the money in farming business and, in fact, the rest will go a long way to liberate my family from a financial bondage. Big thanks to betPawa!"
Rewarded for keeping it betPawa
Joseph joined betPawa earlier this year with some help from a friend. "I got to know betPawa seven months ago through my friends," he said.
"Andrews actually recommended betPawa to me stating a number of benefits I could get such as huge win bonus, low stake and user friendly website. Even though I did not give him my attention the first time, he kept on convincing me so I decided to give it a try and here I am today.
"I like betPawa because of the odds but what makes me like betPawa most is the win bonus which my friend kept on talking about. It is absolutely amazing and, to be sincere, I could not have gotten this amount of money without the win bonus.
"It is incomparable to any other betting company in Ghana and I think even beyond. Initially, I thought the betPawa win bonus up to 250% was unrealistic but now I have experienced it myself.
"I was extremely excited and surprised to win such a huge amount of money with just a GH¢2 stake. So with a joyful noise, I quickly informed my closest friend Eugene and later Andrews, because he showed me how to catch a BIG fish with small meat."
Joseph's advice for winning BIG
How did the Navrongo resident bet small win BIG? "Actually I made my selections based on the odds of the teams. I usually look at the teams with lower odds to determine the strength of the teams and I also check past records of the teams I intend to bet on," he explained.
"Moreover, I do check at times players who will be playing in the games before making my selections and that helps me a lot to analyse the teams very well. I normally go for straight win for the home team, away team and draw, so it is my usual method and I had hope that this particular bet would win.
"Normally I do not follow matches or games I have placed my bet on, but I always look at the last game on my betslip. I always log into my betPawa account to check whether I have won or lost."
Want to win BIG like Joseph? Sign up with betPawa.
What is betPawa's no minimum stake? betPawa offers its customers with the genuine chance to bet small win BIG by allowing users to bet as little as 1 pesewa.
What is betPawa's win bonus? betPawa offers the best win bonus in Ghana, inviting users to win up to 250% extra. With 50% for 12 correct picks, 100% for 20 and 250% for 30, you get much more in return.
betPawa is the easiest way to bet online securely. Not only do we offer the best odds and the opportunity to bet small win BIG with a minimum bet of 1 pesewa and win bonuses up to 250%, we also provide 24-hour support to customers who need it.
Are you the next winner? Visit: www.betpawa.com.gh