How Clememt Akurugu won GH¢200,000 with a single cedi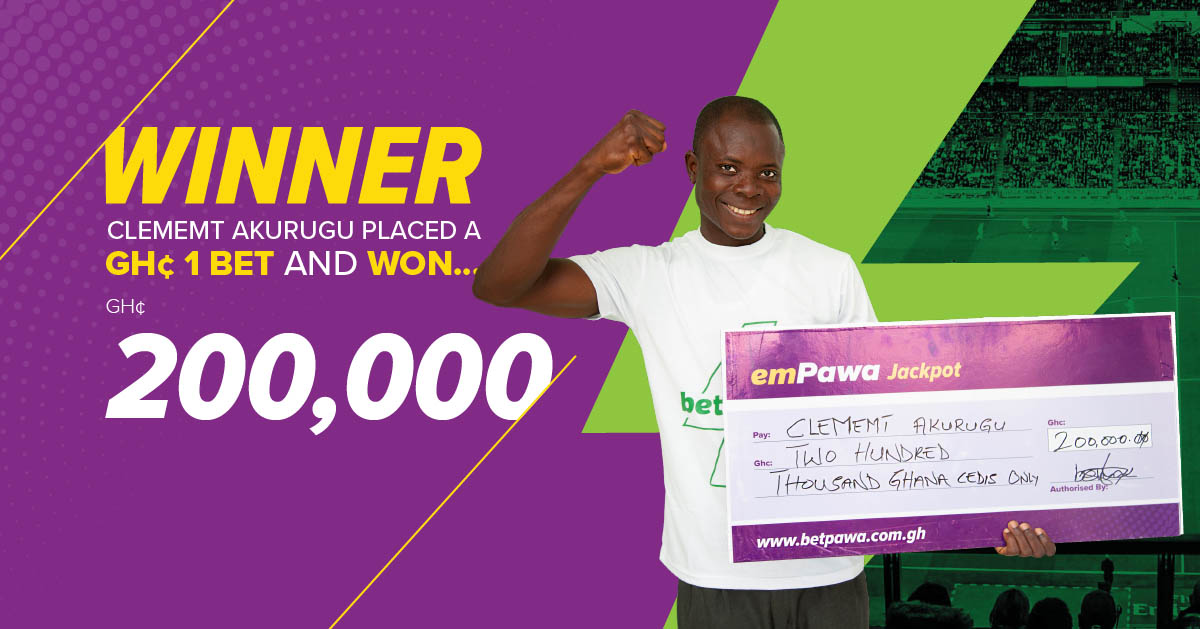 The emPawa17 Jackpot gives you a chance to win GH¢1,000,000 with a GH¢1 ticket. But you can win BIG even if you don't get all 17 results right, as Clememt Akurugu discovered.
Despite getting one match wrong, he won a massive GH¢200,000. Could you do the same? The emPawa17 takes place every weekend, and there's a GH¢1 midweek emPawa13 game with a GH¢100,000 Jackpot for 13 results.
How Clememt won BIG
The Chelsea fan, who was introduced to betPawa by a friend last year, told us all about his strategy, his celebrations and what he'll do next.
He said: "I purchased my winning Jackpot ticket on August 10th at around 10:30am. Even though I believe that betting is a game of luck, I also have my strategy.
"I always use a book of paper and divide the paper into 10 sections and list all the games I want to place my bet on, so that I am able to analyse the teams very well. I also visit allgoals.com and livescore.com to check the past records of the teams I intend to place my bet on.
"I was very surprised that I have won such an amount of money, so I had to check my betPawa account balance again to be sure and it was still there.
"This is my very first time winning BIG like this, even though I had won severally from betPawa with an amount of GH¢5,000, GH¢2,000, GH¢1,700 and other winnings."
What next for Clememt?
Discussing future plans, the Zebilla native added: "I will use the money to expand my business. I already have a lot of businesses but I am much focussed on a building material business so this is a very big opportunity for me to expand that business and take it to the next level.
"In fact, this money… wow! It will definitely elevate my standing in business now.
"For me, I like betPawa because of the odds. We compare a lot with other betting companies and you can see that betPawa has very reasonable odds, especially when it comes to betPawa live bets.
"Sometimes you will realise that in the 70th minute, you can still get 1.4-plus odds, especially when the team is in a clear lead and only with betPawa can you find something like that. This makes me love betPawa more.
"All I can tell anyone looking to win BIG like me is that betting is a game of luck, however people need to study the teams first: their records, home records, away records, head to head, number of goals and the number of chances they create before placing your bet on them."
Want to win BIG like Clememt? Register with betPawa.
What is betPawa's GH¢ no minimum stake? betPawa offers its customers with the genuine chance to bet small win BIG by allowing users to bet as little as 1 pesewa.
Are you the next winner? Visit: www.betpawa.com.gh