Our 250% win bonus helped Abraham Dogbatse win GH¢59,777.48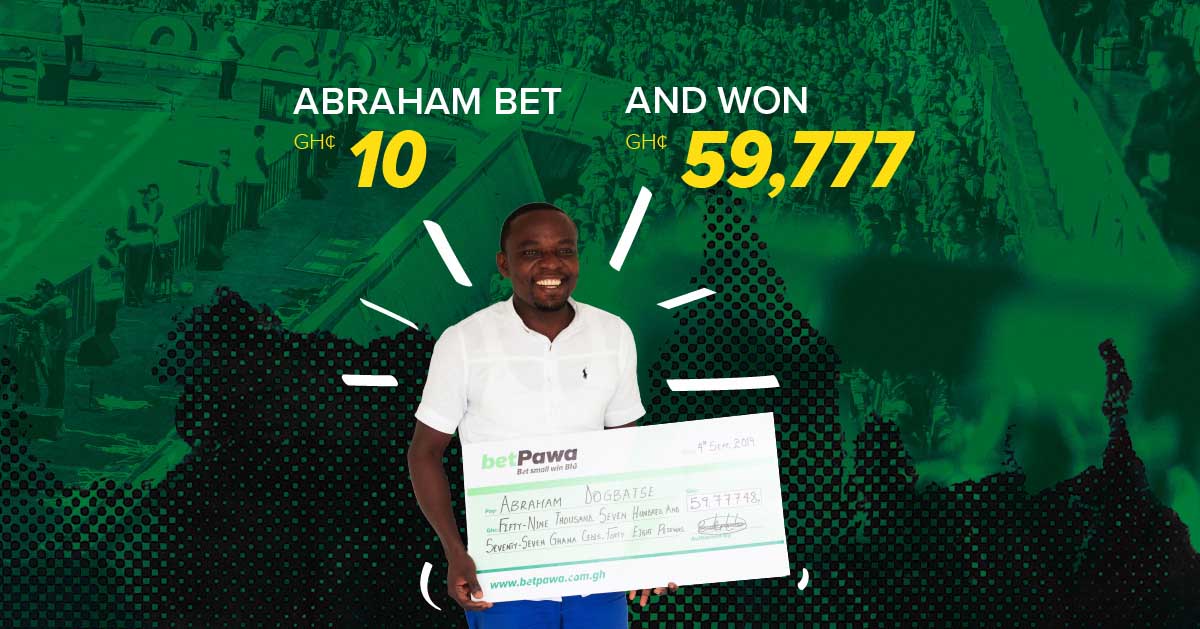 betPawa's 250% win bonus arrived last month, and already customers are betting small and winning BIGGER than ever.
Abraham Dogbatse bet GH¢10 on 30 legs at odds of 1708.64 to win GH¢17,076.42. The new win bonus more than trebled his winnings to GH¢59,777.48.
betPawa offer the best win bonus in Ghana for all bets with three legs or more, including 250% for bets with 30 legs.
He said: "I love betPawa mainly because of the win bonuses, and looking at this bet I won, the bonus was almost three times the actual win and we can't get this anywhere except betPawa.
"Moreover, I love betPawa because of the trust. I see a lot of betPawa adverts around so I know betPawa is a secure place for me to bet.
"The first thing I will tell anybody out there: betPawa is real. This is not the first time winning from betPawa and any time I won, I am being paid immediately."
How Abraham won BIG
Asked about his advice for other customers, the Akatsi native added: "With regards to team selection, I believe in accumulation of the odds by picking a lot of matches and going for other market options."
His winning betslip proved this. 28 of his 30 selections were on the total number of goals in each game, with the other two being Man City and Liverpool to score in both halves of their matches.
He continued: "I placed my bet on 26th August, targeting betPawa's 250% win bonus and, in order to get that bonus, I made 30 selections on my betslip with Total Score Over/Under market options.
"I always use two mobile phones, one for the betPawa site and the other phone for checking past records of the teams I want to bet on.
"I was very excited and amazed because I was left with three games on my betslip and a match between FC Porto and Guimaraes really caused me a lot of panic because I went for the Total Score Over 2.5 market option.
"In the 90th minute, the number of goals scored were two until an additional six minutes. My story of winning BIG with betPawa came to be realised in the 93rd minute. In fact, I started jumping and jubilating and my brother, Robert, was the first person I told."
Abraham's BIG plans
Abraham didn't have to wait long to win BIG. "I was introduced to betPawa about a month ago by my brother, Robert, recommending that betPawa has better opportunities of winning BIG," he revealed.
"This is my first time winning BIG on betting. To be honest, this money will help me a lot. I have planned to buy one or two cars and use it to start an Uber taxi business which I believe will give me very good returns."
Want to win BIG like Abraham? Register with betPawa.
What is betPawa's no minimum stake? betPawa offers its customers with the genuine chance to bet small win BIG by allowing users to bet as little as 1 pesewa.
What is betPawa's win bonus? betPawa offers the best win bonus in Ghana, inviting users to win up to 250% extra. With 50% for 12 correct picks, 100% for 20 and 250% for 30, you get much more in return.
betPawa is the easiest way to bet online securely. Not only do we offer the best odds and the opportunity to bet small win BIG with a minimum bet of 1 pesewa and win bonuses up to 250%, we also provide 24-hour support to customers who need it.
Are you the next winner? Visit: www.betpawa.com.gh